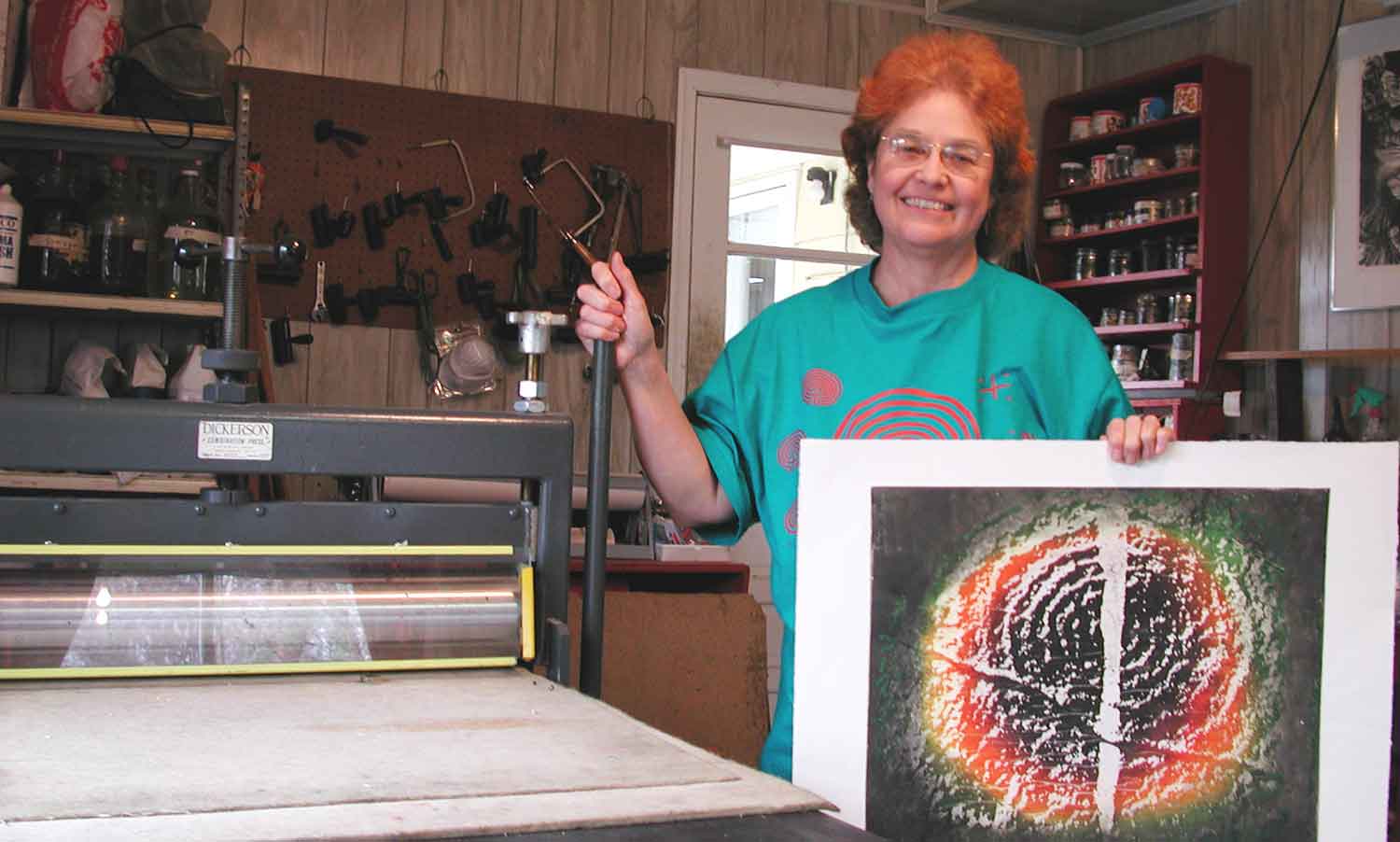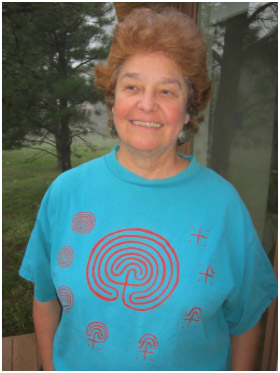 Sandra Wasko-Flood
Sandra Wasko-Flood is an artist, poet, teacher and founder of the national non-profit organization:  Living Labyrinths for Peace. Elizabeth Bishop is responsible for the publishing of this, her first book of art and poetry.
Wasko-Flood received a BA from UCLA (University of California, Los Angeles) in English, and a Standard Secondary Teaching Credential from California State College, Los Angeles. After teaching Junior High School for three years, she became disappointed with the school system, and became a full time artist. She chose artistic luminaries with whom to study wherever she lived:  at UCLA, in Rio de Janeiro, Brazil, University of Wisconsin, Madison, Smithsonian Institution Washington DC, and UNM Taos.
Specializing in printmaking and art/technology labyrinths, as director of the printmaking center at the Lee Arts Center in Arlington, VA, she invited Keith Howard to teach his new safe etching methods there. She then taught Safe Etching as well as Monotype printmaking, one of the first to update this form of one copy prints, at her home studio in Alexandria, VA.
An ardent feminist since college days, she was a founding member of the Washington Women's Arts Center, the Washington Printmakers Gallery, the International Labyrinth Society and the founder of the Women's Art Spirit group (discusses art and spirituality), and Living Labyrinths for Peace.
She discovered labyrinths from a seminal experience in the Great Kiva Civic/Ceremonial Center in Chaco Nature National Historical Park, NM, in which she saw figures of all races and cultures ascending an underground spiral, to do a Dance of Peace on the Kiva floor, and ascend a spiral to the skies. Afterwards, she went straight to a book store and found newly published book on labyrinths. She knew a labyrinth belonged in that kiva. Returning to her Washington DC studio, she was inspired to create "Dance of the Labyrinth:"  computer programmed light box image faces of people and animals (Life), mummies (Death) and icons (Spirits) that lit up to your steps.
Due to an invitation from the Washington Performing Arts Society, (WPAS), based at the Kennedy Center, she conducted her "Labyrinths for Creativity and Peace" workshops in local schools. Inspired to change the school system, she related the labyrinth to all subjects or intelligences. In her soon to be published book—"The Labyrinth Instructors Handbook," she will receive contributions from teachers in every field.
This teaching experience led her to co-directing the Labyrinth Society's first project:  "Labyrinths for Peace:  2000," a labyrinth demonstration for inner peace on the East Lawn of the U.S. Capitol.  Shortly afterwards, she founded Living Labyrinths for Peace (LL4P).  This national organization, has the mission to inspire healing and transformation within and among people through labyrinth creation and education. Its goal is to establish a permanent LL4P center based on her vision in Chaco's Great Kiva to unite peoples of all cultures, races and beliefs.
You are invited to view her art and LL4P websites:
www.waskoart.com
www.livinglabyrinthsforpeace.org
WASKO ART
2229 Lake Ave.
Baltimore, MD 21213
Telephone:
(410)243-1189
(703) 217-6706