Services, Exhibits, & Events
Teaching
Site Specific Safe Printmaking: Etching, Monotype, Mixed Media Workshops (adults)
Two-day workshops (10-4 pm).
Fee: $150 (2-4 persons), $200 (private instruction) Supplies included.
---
Site Specific Printmaking Workshops at Art Studios, Centers, Schools
Contact artist for specific details
---
Site Specific Drawing, Painting, Printmaking Classes for Children Ages 8-14
Series of five after school 1 1/2 hour classes.
Gentle approach to build self-confidence, increase artistic, skills, stimulate creativity. $15 per lesson (4-6 people.)
---
Labyrinths in the Schools for Creativity and Peace
Students learn typical labyrinth designs through mixed media drawings, and journal their experiences in walking them. As a group project, they paint a 12′ x 12′ portable canvas labyrinth to be used indoors, as well as temporary or permanent ones outdoors on the grass or playground. They walk labyrinths for peace wishes: for themselves, family, friends, community and the world. They walk to express a feeling, solve a problem or for just plain fun.
Sandra Wasko-Flood has participated in programs of the DC Commission on the Arts and Humanities and for the last ten years in programs sponsored by the Washington Performing Arts Society, a program of the DC Kennedy's Center.
| | | | |
| --- | --- | --- | --- |
| | | | |
| "Drew Elementary School Labyrinth" Washington DC, 2001, painted on playground with traffic marker paint by grades 4-6 | "Designing Concentric Labyrinths" Drew Elementary School, 2001 | "Merritt Elementary School Labyrinth" Washington DC, 2000, traffic marker paint on playground | "Walker Jones Elementary School Labyrinth" Washington DC, 2000, painted with traffic marker paint by Grades 1-3 |
Lectures: Labyrinths, Printmaking
The artist gives slide lectures' demonstrations for a fee of $50 per hour on labyrinths with on topics such as their history, contemporary uses, and labyrinths in art.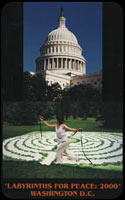 Consulting
Labyrinth Consulting: The artist consults on all aspects of building labyrinths from designs to recommendations for other construction resources.
---
Project Director: Sandra Wasko-Flood co-directed "Labyrinths for Peace: 2000" the inaugural traveling exhibit of the Labyrinth Society and, at the same time, organized labyrinth walking on the east lawn of the U. S. Capitol. She is open to other such projects as a collaborator or director.
Exhibits & Events
World Labyrinth Day at the Cathedral of the Incarnation in Baltimore
Program of the International Labyrinth Society (TLS) where everyone around the World walks as One for Peace in their time zone at 1 pm.

WALK AS ONE @ One WORLD LABYRINTH DAY 2017. COME JOIN US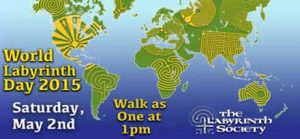 First Saturday in May:  May 6
Walk as one at 1 pm in your time zone.
Living Labyrinths for Peace Program:
Cathedral of the Incarnation
4 East University Parkway
Baltimore, MD 21218
---
STEAM (Science, Technology, Art and Math) Fall Program at the Taos Academy in New Mexico
For high school students to update the computer programmed light boxes in "Dance of the Labyrinth"
WASKO ART
2229 Lake Ave.
Baltimore, MD 21213
Telephone:
(410)243-1189
(703) 217-6706