Cycles
Cycles (1986-90) depict reality as an ever turning circle of life, death, and rebirth, where human and nature, sensuality and spirituality, the sacred and secular unite.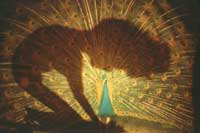 Cycles I: Photos
(Photo Montages) 1986
Photos (35mm slides) of the seasons are superimposed over figures of men and women in dance poses from youth to age. The "Life Cycle" shows nudes; the "Death Cycle, mummies from Guanajato, Mexico; and the "Spirit Cycle" "white" shadows of the nudes. Peacocks superimposed over the figures begin each cycle.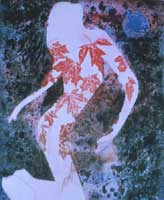 Cycles II: Prints
(Photo Etchings) 1986
Photos are enlarged to form twelve photo etchings of cycles and seasons. The repetitions of the figures in dance positions merge with the backgrounds suggesting a filmstrip ready to begin: "Life Cycle: Spring," "Death Cycle: Spring," "Spirit Cycle: "Spring," "Life Cycle: Summer," "Death Cycle: Summer," etc.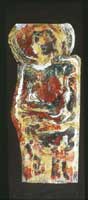 Cycles III: Transformations
(Prints) 1986-88
"Cycles III: Transformations,"
(1985-88) (Prints) (Photo Etchings, Monotypes, Viscosity Etchings) transform the twelve figures used in the previous "Cycles" into four other series: "Elements," "Icons of Light," "Seasons," and "Wheels." "Elements Transformation" uses a viscosity printmaking technique resembling watercolor. "Icons of Light" are monotypes printed with colors like stained glass. "Seasons Transformations" uses metallic colors on black paper, and the "Wheels" figures almost begin to move.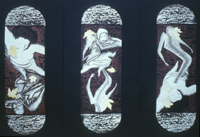 Cycles IV: Dances
(Photo Etching Collage) 1988
Here the static photo figures in the first three cycles are redrawn into a partner dance with each other, the seasons and the elements: "Spring Dances: Water," "Summer Dances: Fire", "Fall Dances: Earth," "Winter Dances: Air." According to New York City critic,Tony Cavanaugh, they "have a visionary quality like the striving souls of William Blake."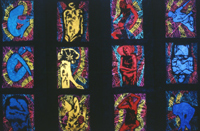 Cycles V
(Fabric Scrolls (Wall Hangings)
1987-1988
"Cycles V: Fabric Scrolls," (1987-88) (Wall Hangings) push the boundaries of printmaking into fabric. In "Spirit Windows: Spring, Fall, Summer, Winter" the figures next dance on iridescently dyed crepe jacquard silk–fabric scrolls (6′ x 2′ each) or wall hangings that shine forth like Gothic Cathedral windows. The "Wheels" and "Seasons" series are now printed with metallic colors on sensuous black silk charmeuse, while "Elements Transformations" merge fire and water, earth and air on ivory colored Brazilian linen.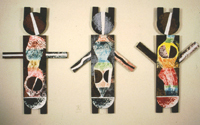 Cycles VI
Photo Etchings on Fabric mounted on wood 1991
In "Dances/Seasons" three sculptural crosses represent life, death, and spirit figures, and four totemic triptychs depict the seasons Made by printing photo etchings on taffeta and embossed silk, the figures extend wooden hands or claws as if mouthing their titles: "I Dance with the Seasons" (life), "I am the Seasons Dancing" (death) and "I Dance beyond the Seasons."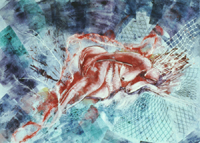 Goddesses I: Prints
(1981-85) Lithographs and Monotypes
Goddesses I are reinventions of the sacred feminine from many cultures combining the ancient with the contemporary, the erotic with the spiritual. These monotypes–one copy painterly prints– of nudes use a distinctive style combining textures and found objects such as plants and machine parts to emphasise women's struggle towards wholeness in the 20th century.
Etchings 1977-2001
Lithographs 1977-1984
Monotypes 1981-85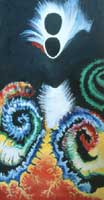 Goddesses II: Paintings
1996-97
"Goddesses II: Paintings" (1996-97) (Acrylic on Canvas) are later reinventions of goddesses in large 2′ x 3′, 4′ x 5′ canvases which make use of much textured paint.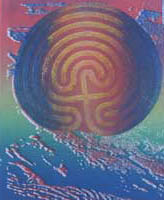 Labyrinths
"Labyrinths," (1993-2001) (Prints and cards, Portable canvas labyrinths, Prismatic labyrinths)
Unlike mazes which have many confusing paths, labyrinths have a single path leads to the center and back, which many find slows the breathing, focuses the mind and induces a peaceful or creative state. As an interactive metaphor for life's journey, they incorporate all the art series that have gone before. The artist believes she has found the quintessential symbol and that it will last for life.
The "Rainbow Labyrinths Prints and Cards" are photo etchings of the four elements, using new safe methods with ImagOn on copper. They are inspired by what the Indians call "Sun dogs,"the rainbow circle around the sun,a symbol of peace among tribes. The "Rainbow Portable Labyrinths" are made of canvas and are designed to be walked. "Prismatic Labyrinths" make use of prismatic foils and photo transparencies.
Cards (Photo etchings) 2000
Prints (Photo etchings) 1993-2001
Portable Canvas Labyrinths (acrylic) 1999-2001
Prismatic Labyrinths 1999-2001
Spirals: Chaco Canyon, New Mexico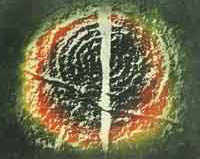 Spirals, Chaco Canyon, New Mexico
"Spirals, Chaco Canyon, New Mexico," (1989-2881) (photo etching with ImagOn) is inspired by petroglyphs of humans and animals in Chaco Canyon, New Mexico, especially spiral and sun dagger solstice markers of the ancient Anasazi Indians. (C.1100 A.D.) With this powerful symbol of the sun spiral, the artist attempts to break through their ancient walls, to move above earth and beyond "Cycles," to a larger cosmology.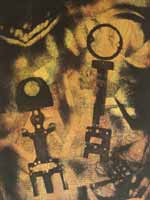 Totems
"Totems", (1973-79) Media: Prints (etchings, lithographs, monotypes) influnced by her life in Brazil, are prints consisting of an "Owl/Snake"series, inspired by the plumed serpent of the Aztecs, as well as a series of "Masks" and "Mechanical Totems" made of machine parts and other found objects.They unite the pre-industrial cultures with our modern one, begin her partner dance with art with technology.